Sans Souci is an artist run exhibition platform located at the world's oldest theme park Dyrehavsbakken north of Copenhagen. During 2022 Sans Souci will present a total of four exhibitions. Following Dyrehavsbakkens opening seasons the exhibitions will unfold on different locations during the year.
Fera
Mia Edelgart
Jan S. Hansen
Ragnhild May
Marie Raffn
Jean Marc Routhier
Sebastian Hedevang
14.4.-
14.5.2022
Vandrutchesbanen Dyrehavsbakken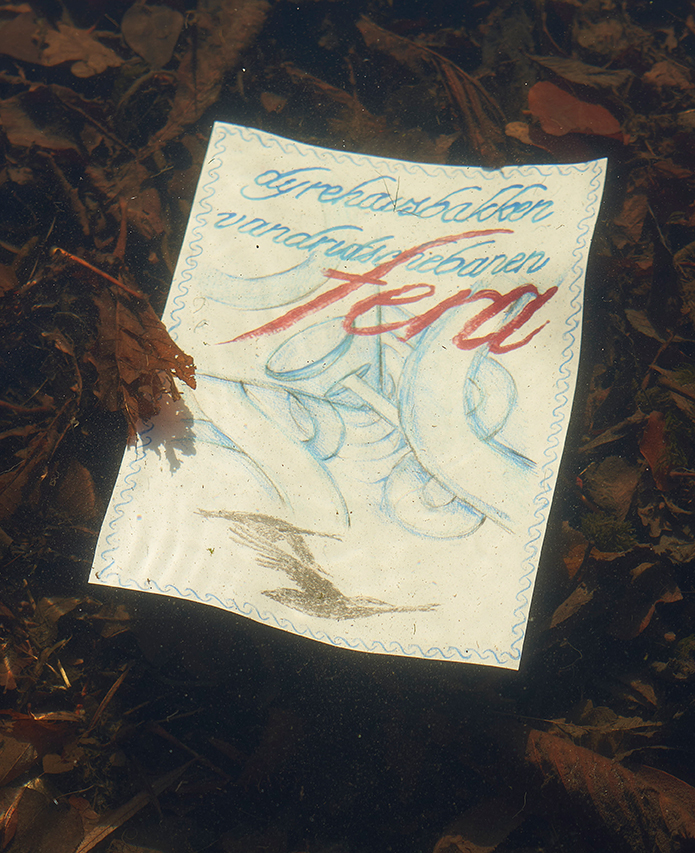 The water is a beginning. Then things grow, then breaths are taken, it remains necessary. This uncolored blue-ity, which gradually mainly resembles a holiday or other people's disaster. Something we're not united about. The water is a currency. A pious woman walks into a forest, it is the king's forest, the king's castle-sized oaks with the king's animals beneath them. Here, nature is reigned into the perfect spot between grandiose wilderness and tamed excursion-ability and the woman stumbles upon a spring in a hill. The water is sacred. It can heal, maybe surprises and miracles really shared essences in the 16th Century, maybe we're just always prone to flock around any slightly rare phenomena. Once again water as a magnet for that which wishes to live: people circle around this newfound spring, they sell and perform and worship. And some centuries pass, people still sell and perform here, perhaps they worship velocity or summer's yellow light in their eyes, yellow beers, singing women to listen to. The water is hidden. Time looks like circles and every spring Earth remembers its own name again, it belongs to some juicy beeches and the return of insects, it belongs to the money we spend on entertainment. "The extent of the fun increased" that's how the evolution from holy spring to this amount of amusing machines is explained. It's lovely here, things to look at. Even more to look at right now. Simply a wide line of beautiful things from organic incidents to solid artificiality: afternoon sun and fiberglass and candy and a satisfactory metal construction. The water is architecture.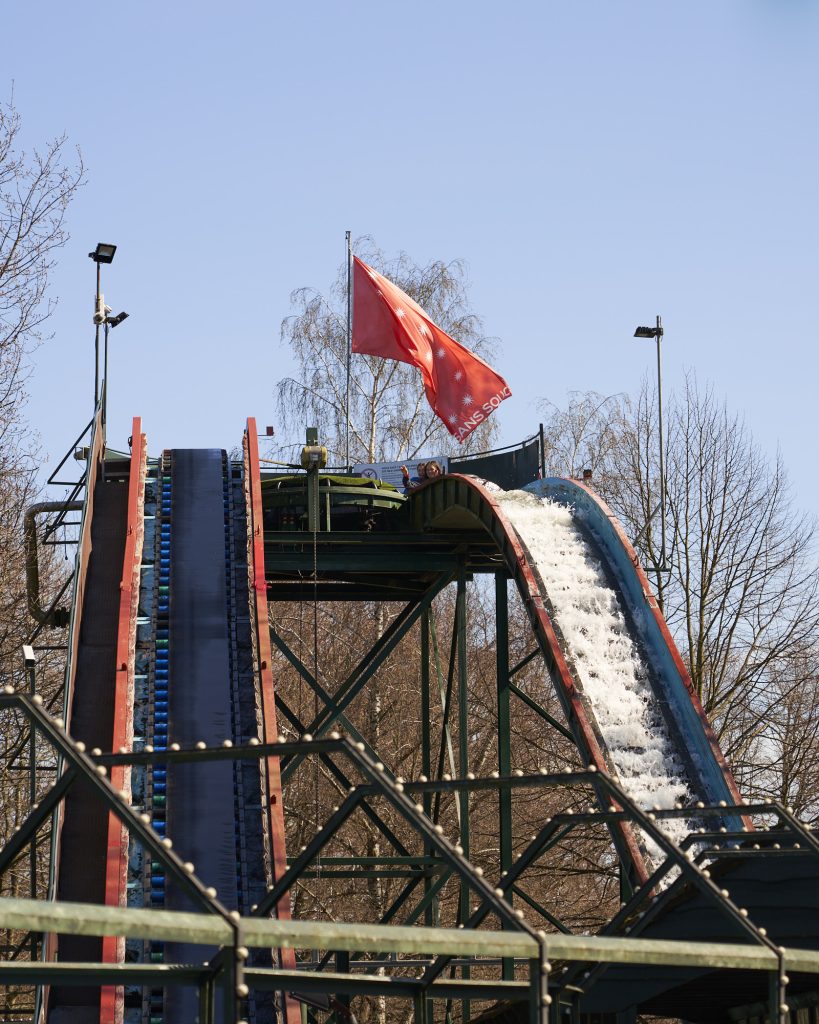 'Sit back in one of the many cars, which are tree trunks, and prepare yourself for a fun experience that will really stick with you. Who ends up getting most or least wet in your tree trunk? Time will tell!'
And we have always loved beauty and fun, the more people who can access it the better, that's probably our stance, and so the welfare state and rindalism and the world's oldest amusement park are all Danish. Neither forest nor ocean are owned here, landscapes have become as communal as the sculptures now occupying them. Moulded things in the middle of a water slide, isn't that the ultimate pleasure? Five hundred years of close collaboration with water until that particular April where human art came up with interfering: shaping an entertainment hybrid or a museum hybrid between all the human laughs. The world destroys the water so that water destroys the world, but prior to destructions we better try to adapt, to listen some more. To worship something else than money, worship how also light is piercing us while we pretend to take pains understanding that this Earth isn't ours. It's no longer the king's earth or any business owning person's, the Earth is for those who can use it without just possessing or adorning it. We know very well that Earth is for the wings and the stones and various waves, we know that the sugar-thick pleasure we buy is only on loan. We know that conversations of the future will be wordless connections between everything that copes with living in water. And for a short while we're still able to look at it.
Marie Raffn
aniso ● lepido ●di ● hymeno ● ptera ● (mosaic wings, fallen. series)
Stainless Steel, resin, fiberglass, pigment
2022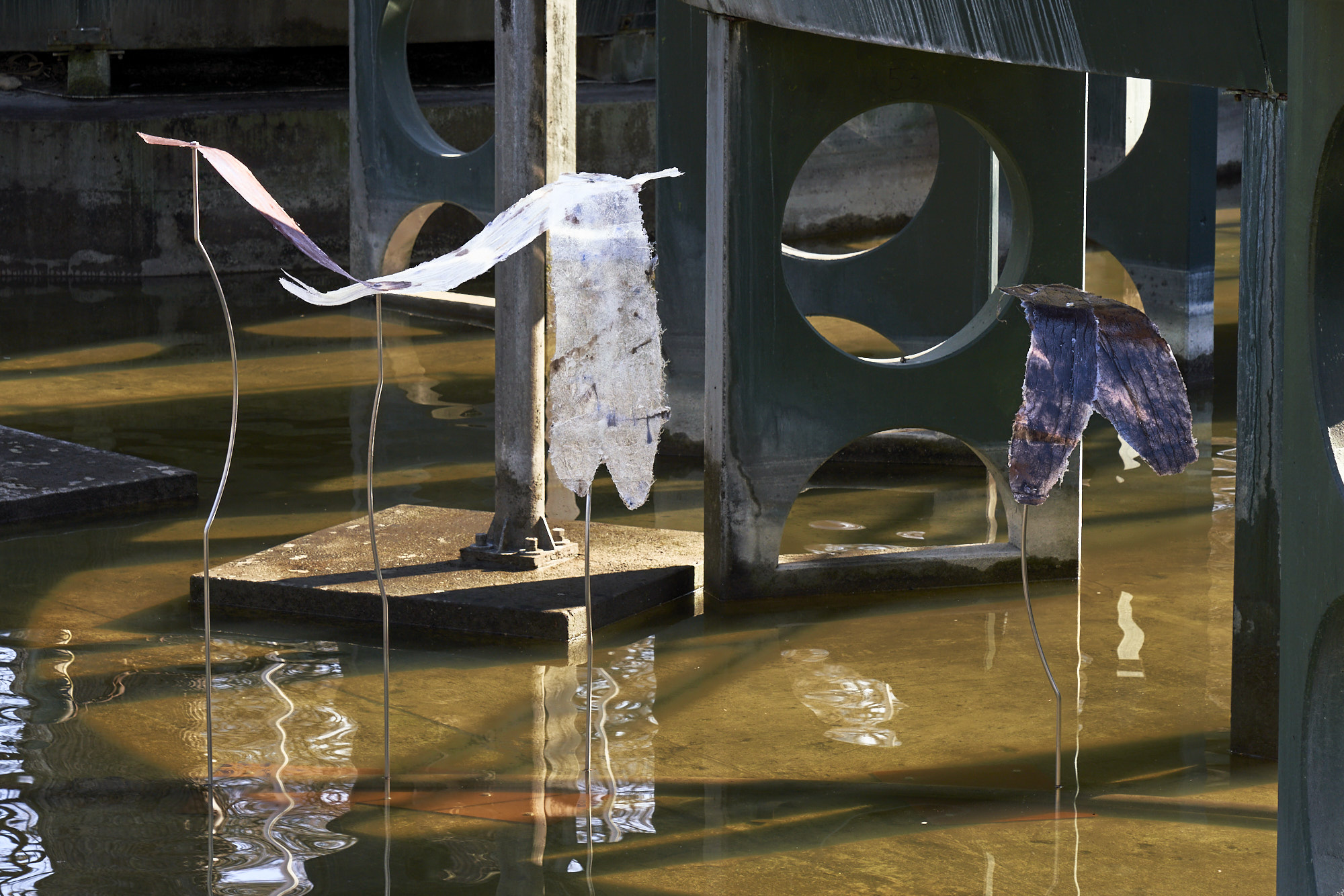 Marie Raffn has created a new group of sculptures: cast wings from different insects, dragonflies, butterflies, bees and flies, ants and wasps. It can be difficult to determine whether the organic shapes fell down dead from the sky, or if they merely wait to change their look and become one with the other colorful shapes surrounding them. The works can be seen as pessimistically melancholic or hopefully dreaming and they create an imaginary environment in which large, separate insect wings can melt together into new bodies: A kind of mosaic evolution with the potential to create new patterns that might be better at enduring the challenges of future environments. 
Ragnhild May
The Listeners
Stone, concrete, speakers
2022
Ragnhild May's series of works consists of four stone sculptures with framed 1:1 models of cast bronze ears. The sculptures are made from Swedish diabase, a type of rock whose high iron content provides it with a particular sound tinge while making it harder than other types of granite. The works revolve around the aesthetics of listening, around espionage as a particular form of listening, around the animated nature as an image of a post-Anthropocene era. The sculptures are accompanied by an audio track: a multichannel work for voices interacting with each other in a dialogue about humans in the Anthropocene age. When are you overheard, who listens?
Jan S. Hansen
Untitled
Mannequin, tub, cloths, reflective fabric, resin
2022
Jan S. Hansen's mannequin stretches towards the sky in a kind of sun salutation. The punctured figure is hit by sun and water. The bowl and its elements add a meta layer to the sculpture: The cloth in the bowl illustrates stripping and nudity towards inner and outer nature and a cohesion with the universe, but also a reflection on consciousness as a fundamental condition for being in the world is at play. The cloth catches the daylight and shines towards the viewer, depending on the placement of the sun as well as the viewer's movement around the work. 
Jean Marc Routhier
Untitled (May the rain fall at the proper time)
Candy euro-bills, Inkjet, edible paper, varnish
2022
Jean Marc Routhier's work sort of mimics the Tibetan prayer flags and the way in which these have become commonly decorative in the West: some kind of inane adorning. Contrary to the original prayer flags which, embellished with different traditional scriptures, are an integrated part of Tibetan culture and history, the flags in this work have been made from artificial money: a colorful candy piece miming the global, monetary system.
Mia Edelgart, Sebastian Hedevang
Dance Macabre
Aluminum, stainless steel, rivets, enamel paint, glass eyes, wire, bells, padlocks, chain, rubberhoses, pump system
2022
Mia Edelgart and Sebastian Hedevang's fountain consists of a number of aluminum elements imitating the so-called 'fattigblokke' ('blocks for the poor'), which are a part of Bakken's history: next to the healing spring a 'fattigblok' were put up to collect money for poor and destitute people. The work is an open attempt at sustaining the absurd poetry already contained in Bakken as such. Adding a nutty historicism while also referring to the always vulnerable body between the fast, disconnected signs, the blinking machines and the giddy people. The work is accompanied by an audio walk.